Welcome to all visitors and thank you for joining us!
New parishioners, please register using this PDF form: St. Paul's Registration Form
Farewell to parishioners leaving the Parish. Please be sure to let the Parish Office know.
COVID-19 Update - March 10, 2022
Worship Services
As of March 11, the following will be in place:
All worship services go to 100% capacity
No vaccination requirement for any worship services
No mask requirement for any people in worship services
Project Advance 2022 – Gather Us, Lord

Your gift will grow your parish and expand the reach of Christ's love to those who need it most.
It will fund important works such as:
Ministry to youth and young adults in our parishes
The construction of new Catholic schools
Programs that support healthy families
Feeding the homeless and vulnerable in the Downtown Eastside
Pastoral ministry and support for the hospitalized
Once our parish goal is met, all additional funds raised will be directed back to parish projects as identified by Father Smith in his letter.
Thank you to everyone who has given already in 2022!
Watch the Project Advance video
You may donate online, if you wish.
If you haven't received your pledge package, email the parish office at parish.stpaulr@rcav.org
---
The 3-part Project Advance pledge form looks like this: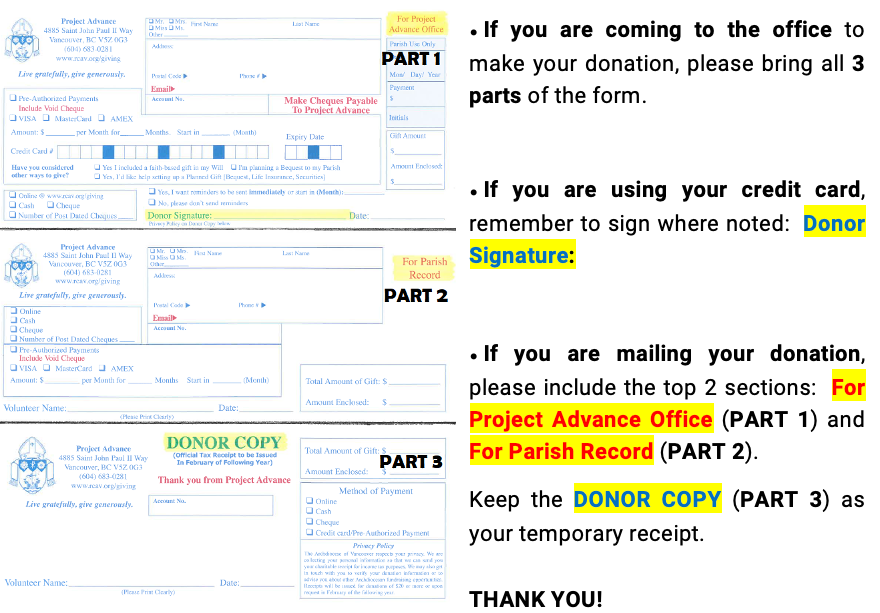 Confessions
Monday to Saturday, 30 minutes before morning Mass; Saturdays from 3:30 to 4:45pm; by appointment at 604-277-3213
Weekly Bulletins

Parish bulletins are now being emailed to subscribers. Subscribe today.

Weekly Offering

Support your parish when you cannot attend:
My Sunday Offering

Have you signed up for FORMED?

Search for "St. Paul's Parish" when you
Sign up for FORMED